More deals from xpBargains.com
Redeem Florsheim coupon: If no code is mentioned in the "Coupon Code" field, click through the store link and the discount will be reflected at checkout. Otherwise, enter the coupon code in applicable box at checkout. Valid Florsheim coupon should be applied to your order.
If you have problem with a Florsheim coupon or a Florsheim coupon link, or to report a Florsheim coupon, please contact us.
We are not necessarily affiliated with Florsheim in any way.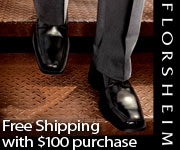 Brand name "Florsheim". Men's footwear and accessories.
Free 2 Day Shipping on $75+ Exp: unknown
click here for this Florsheim coupon, use code LNKSHIP14
10% off
click here for this Florsheim coupon, use code LNK10
Hard to find Sizes
click here for this Florsheim coupon
Save 25% on Clearance Footwear and Accessories at Florsheim.com
click here for this Florsheim coupon
Florsheim White DUKE Boot. Limited Edition. Only 100 pairs available. Exp: unknown
click here for this Florsheim coupon
$10 off $100
click here for this Florsheim coupon, use code 9880
Redefining Comfort – Florsheim Comfortech
click here for this Florsheim coupon
Save 15% on orders over $100 Exp: unknown
click here for this Florsheim coupon, use code 8520
Free Shipping with $100 Online Purchase Exp: unknown
click here for this Florsheim coupon
$20 off $100 Exp: unknown
click here for this Florsheim coupon, use code Link20
Expired Florsheim Coupons
These Florsheim coupons that are "supposed" to be expired but it is possible that an "expired" Florsheim coupon is still valid.

Florsheim Coupons brought to you by xpCoupons.com. We constantly update our Florsheim Coupons database to bring you the best Florsheim offers. Please contact us if you have any question regarding Florsheim coupon code.

Disclaimer: By providing codes or links to other sites, xpCoupons.com does not approve or endorse the or products or information on these sites. Nor does a link or coupon indicate any affiliation with or endorsement between the linked site and xpCoupons.com.

<! ===============Vertical Space=============== -->